Thinkology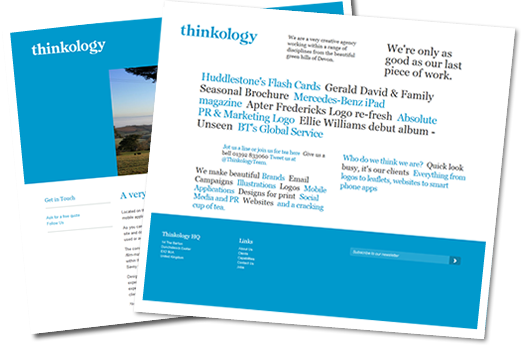 Located on the greenbelt of Exeter we are a creative agency providing a range of services encompassing website development, mobile applications, design for print, video presentations, exhibition stand design, branding, animation and more.
As you can see the range of work we deliver is broad but to illustrate just some of our experience please feel free to explore our site and do not hesitate to contact us if you feel we can help you. The very nature of these projects means that some are no longer used or available, whilst others are live and operational.
The company is headed up by Simon Milton, Managing Director and Founder. Simon has been a hands-on designer/developer/film-maker for over 13 years having previously pursued a career in engineering management, particularly in lightweight composites within the marine and aviation industries. He has particular experience in implementing solutions for leading luxury hotels, from the Savoy Group and Warner Breaks to Bovey Castle and One Aldwych.
Design is led by Matthew Hinchliffe, Creative Director and co-founder Matthew treats each new brief as an opportunity to exceed expectations with innovative thinking and engaging design. Matthew is a graphical design graduate with over 13 years agency experience helping clients communicate creatively within digital and print arenas alike. During that time has worked with a range of clients from T-Mobile, HSBC and Intel, South West Tourism and Bovey Castle.
Studio management is handled by Richard Bennett our Senior Project Manager, Richard makes sure our jobs run smoothly and deadlines are met. An arts graduate with over 14 years hands-on experience in the world of web-based tourism, having worked on such projects as Visit Scotland, EnglandNet and various national tourist boards.